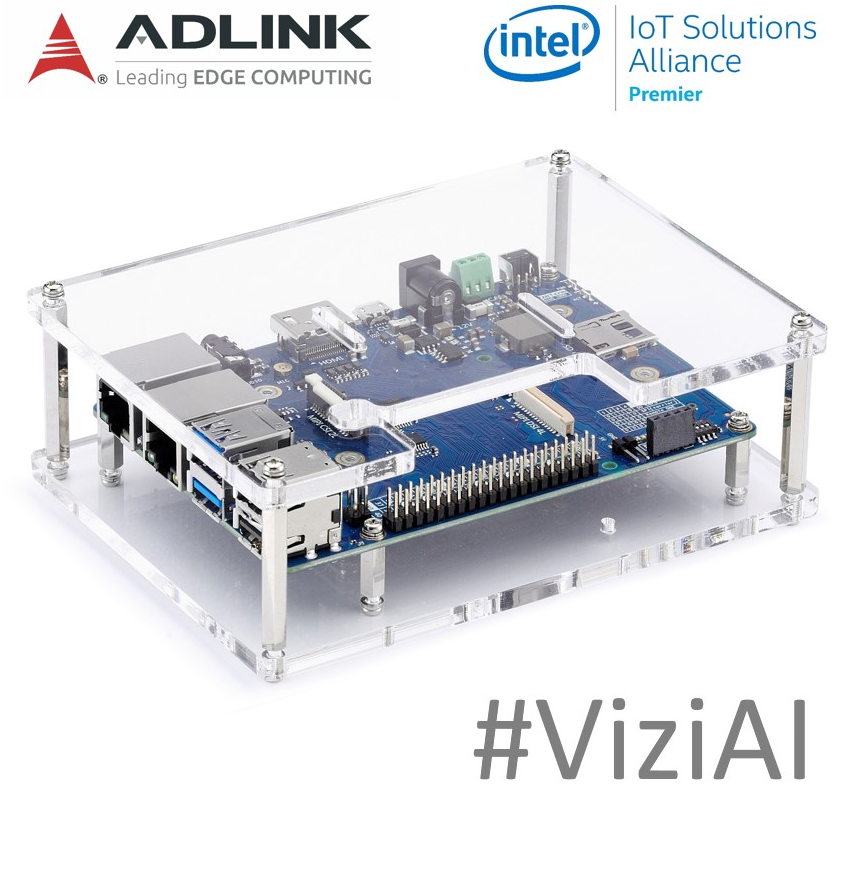 ADLINK: Vizi-AI™ Industrial Machine Vision AI Developer Kit
IOT Module
Description
Vizi-AI combines plug and play hardware and software enabling a faster, easier and scalable starting point for machine vision AI deployments at the edge.

The Vizi-AI starter devkit includes an Intel Atom® based SMARC computer module with Intel® Movidius™ Myriad X VPU and 40 pin connector, Intel® Distribution of OpenVINO and ADLINK Edge™ software.

With Vizi-AI enterprise developers can easily connect to different image capture devices, then deploy and improve machine learning models to harness insight from vision data and optimize operational decision-making. Vizi-AI also includes a range of pre-built OpenVINO compatible machine learning models that can be used straight out of the box.
IoT Solution Specification
The Vizi-AI devkit includes:
Intel Atom based SMARC computer module with Intel® Movidius™ Myriad™ X VPU and 40 pin connector.
Intel Distribution of OpenVINO toolkit, which optimizes deep learning workloads across Intel® architecture−including accelerators−and streamlines deployments from the edge to the cloud.
ADLINK Edge™ software provides enhanced functionality of OpenVINO through the ADLINK Data River™ which enables data to flow freely and securely.
ADLINK Edge™ Profile builder which provides a simple, intuitive user experience to manage devices and applications.
ADLINK Edge™ Model Manager which enables users to add their own models to a pre-loaded selection for easy deployment.
Vizi-AI is also supported by its own community,
www.goto50.ai
where users can find support, pre-built scenarios and other useful resources.
Download
Partner