O'PRUEBA : iGWS - 5G CPE
Intel Market Ready Solution
Description
iGWS is an all-in-one Network Operating System (NOS) for Universal CPE (uCPE) or FWA equipment to provide not only flexible forwarding services but also outstanding computing performance. iGWS supports all communication channels (fiber, copper, cellular), the total solution for all data services through a single platform with multiple WAN ports including 5G technology, making it an excellent solution for enterprise scenarios. Also, in the transition from 4G to 5G, iGWS works with both 5G SA and 5G NSA so that it can help facilitate a smooth and rapid introduction of 5G services.
With cost-effective network access providing uninterrupted Internet connectivity and 5G transmission throughput of over 1 Gbps, iGWS also features containerized microservices and maximum x86-based computing power, enabling MEC and Far Edge Computing use cases suited to the agility, scale, and reliability requirements of modern cloud applications.
IoT Solution Application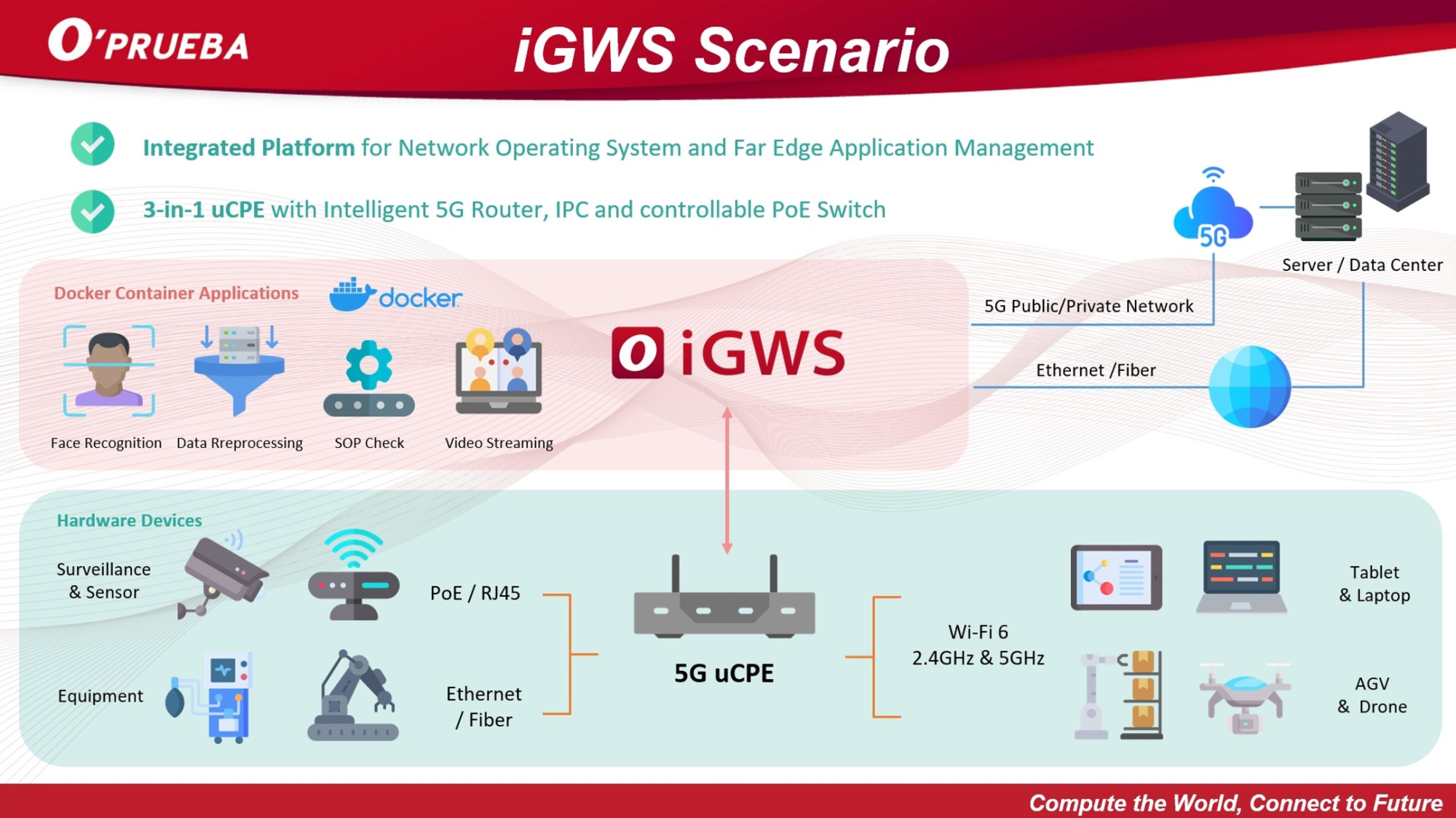 iGWS Solution
Support 5G Private network configuration
Deploying 5G networks in transportation, factories, and science parks.
Providing network solutions for hard-to-wire areas.
Addressing connectivity dead zones in factories and companies.
Centralized management and remote control suitable for large-scale deployment
The most professional 5G technology team, quickly realizing connectivity, application, and management
Plug & Play design to save time and resources.
Support remote services to reduce maintenance and update costs.
From software to hardware, all designed and produced in Taiwan, providing the most complete MIT high quality.
Intelligence Forwarding Solutions
Software-Defined Network
Single Point Network Slicing for SLA
Heterogeneous interface Orchestration
Never Stop Connection with Hybrid WAN
Flexable Deployed Routing and Switching
Container APP
Based on containerized microservices
Management and smooth development
Offer fast application scale-up service
Provide Official containers in App Store
Easy to install Docker container
Intuitive Management
Manage with web GUI
Facilitate management process
Graphical connection status
Connect via SSH
API
150+ Standard API
Integrating APIs to 3rd party control systems (NMS)
Connect to Controlador for Zero Touch Provision and Centralized Control
Multiple WAN
Self-Define Multiple WAN
Guarantee uninterrupted Internet
Smart Failover & Failback
Load Balancing
Statistics & Logs
Usage activity
Visualize network traffic
Connected devices
POE Power Information
System, Mobile, Diagnose logs
Port type change log
Export log
Power over Ethernet
Total PoE power budget control
Toggle PoE function
VLAN
Port mode (Access. Truck)
Support Multi-SSID
Support Ethernet port
Network Communication Interface
Mobile network
Ethernet
WiFi 6 or WiFi 6E
PoE
SFP
Console port
Mobile Network
Support 5G NSA and SA standards
Signaling Information
Fully compatible with 4G networks
Multiple APN support
SIM card IMSI binding
eSIM support (optional)
Software-Defined Port Type
Easily switch between WAN and LAN port
Dynamic adjustment-related pages
OTA
Mobile Remote Control
Firmware upgrade
Firewall
Access Control List
Port forwarding
NAT
Diagnose
Speedtest (Performance metrics of WAN port)
iPerf (server and client mode)
Cell Scanner
Ping
Traceroute
Diagnose scheduler
Download
The files in the following blocks can be downloaded after filling in personal information
Partner