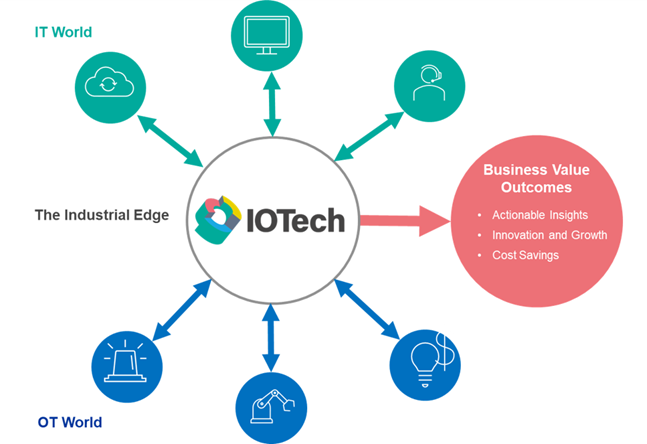 IOTech:Open Edge Data Platform
IOT System
Description
IOTech Open Edge Data Platform
IOTech's open edge data platform is designed to maximize openness, ease of use, flexibility and choice for organizations developing the next generation of industrial edge solutions. To meet customer's needs IOTech has created a software platform that provides independence from hardware, operating system, programming language, applications, OT protocols and choice of cloud technologies.
The IOTech solution helps companies remove their siloed OT islands of automation and brings their industrial data together in a single format in one place. The platform shields edge applications from the underlying OT complexity, providing normalized access to all equipment data across an enterprise. The platform is being used as a key enabler for a new generation of data driven industrial solutions across vertical markets including Smart Maufacturing, Smart Energy & Rewables, Building Management and Retail.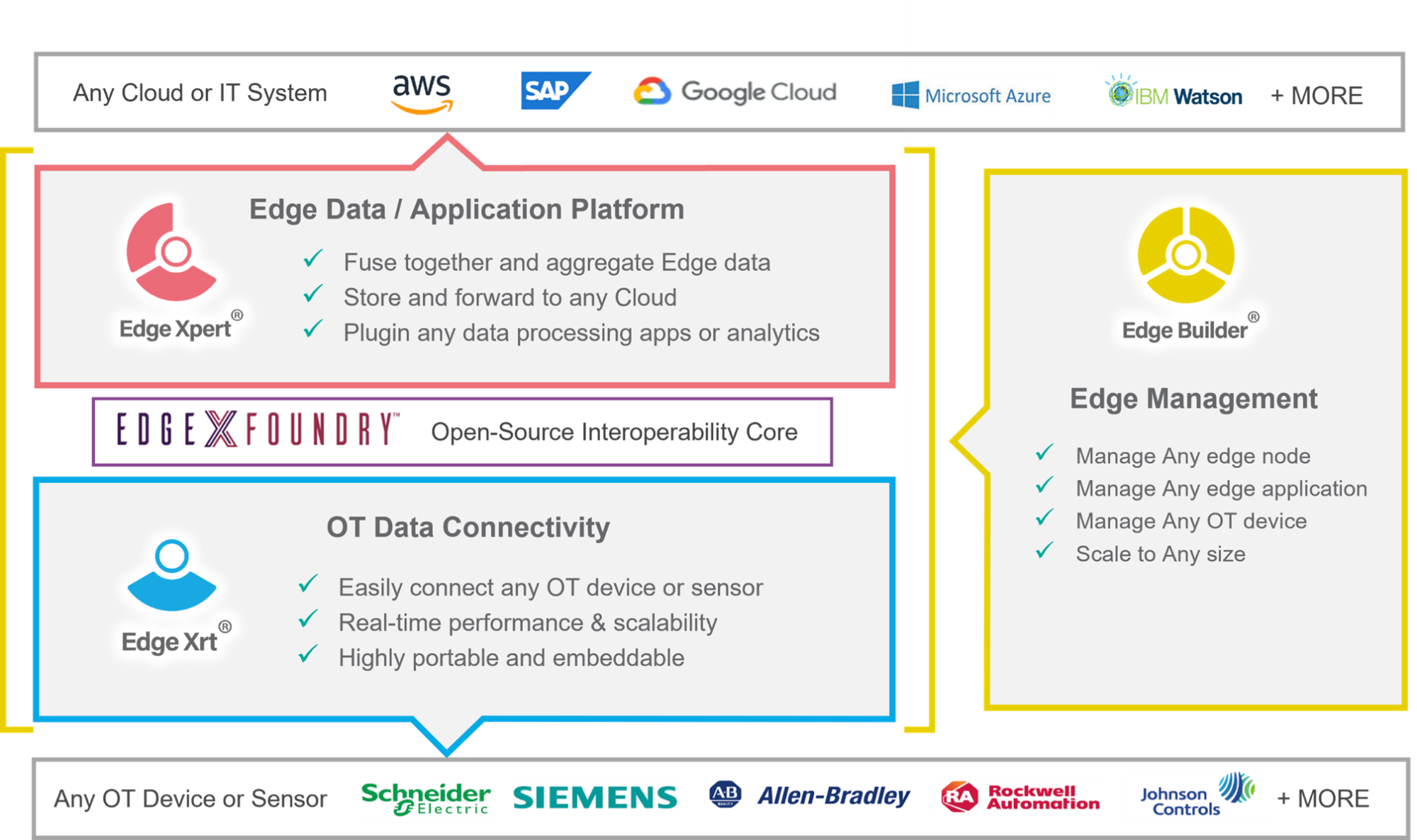 A modular microservices and consistent architecture enables users to create plug-and-play business value-adding applications by liberating their valuable industrial data and drive top and bottom-line business impacts.
The Linux Foundation's EdgeX Foundry is the #1 global open edge interoperability platform and is the foundational core of the IOTech solution. IOTech adds significant IP and value to EdgeX across multiple dimensions including:
Acquiring and controlling OT data
Fusing and using the data at the Edge
Managing and monitoring the overall Edge environment
IOTech's open edge data platform is a integrated solution stack that incorporates its Edge Xpert, Edge Xrt and Edge Builder technologies to provide comprehensive set of Industrial IoT capabilities.
IOTech Edge Xpert
IOTech "plug and play" edge platform allows users to host edge applications that leverage the latest AI, analytics or inferencing technologies and easily receive data from an extensive range of Industrial OT devices/sensors to act on the data. Transformed data or processing results can then either be sent to any IT/Cloud endpoint for further processing/storage or alternatively commands can be sent back to the connected OT devices.
Easily integrate any type edge application
Containerized or native applications
Receive data in real-time from any OT device
Send processing results to any OT or IT/Cloud endpoint or commands to connected OT devices
Find out more about IOTech Edge Xpert
IOTech Edge Xrt
IOTech OT connectivity software allows users to connect to any OT device, acquire data in real-time and securely share the data with applications or IT/Cloud endpoints
Connect to any OT device
Acquire data in real-time
Connect to any application or IT/Cloud endpoint
Securely share acquired data in real-time
IOTech's edge platform support a wide variety of different device and OT protocols and connectivity to all the major cloud vendors.
Find out more about IOTech device and cloud connectivity
Find out more about Edge Xrt
IOTech Edge Builder
IOTech edge management software allows users to manage any edge node or application centrally and at scale. It helps to automate initial secure edge node provisioning, as well an on-going monitoring and maintenance of the nodes. The complete lifecycle of edge application deployment, configuration, updating and monitoring can also be automated and managed centrally, either from the Cloud or on-premise.
Manage any edge node or application at scale
Automate many key edge management tasks
Support for both containerised and native Linux workloads
Centrally manage node and applications from the Cloud or on premise
Find out more about IOTech Edge Builder
IOTech Delivers Real Value at the Industrial Edge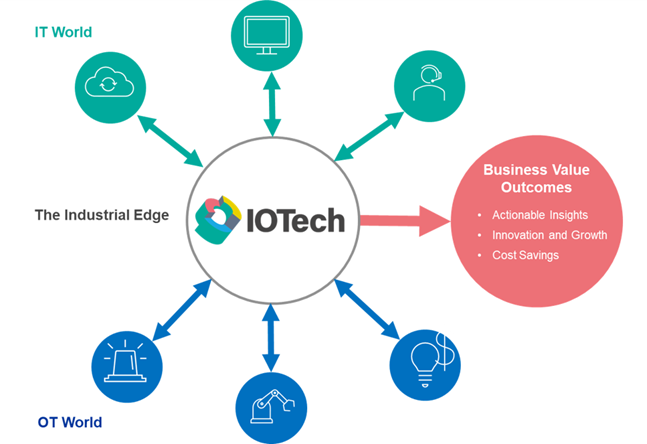 Easily access industrial data to create business insights
Interoperate with best-of-breed technology with no vendor lock-in
Seamlessly integrate across different use cases, solutions, and providers
Hide OT complexity and remove islands of automation
Future-proof your Edge solution for both brown and greenfield applications
Ultra-low latency – ensure timely responses to operational issues
Modular, software-defined solution
Download
The files in the following blocks can be downloaded after filling in personal information
Partner